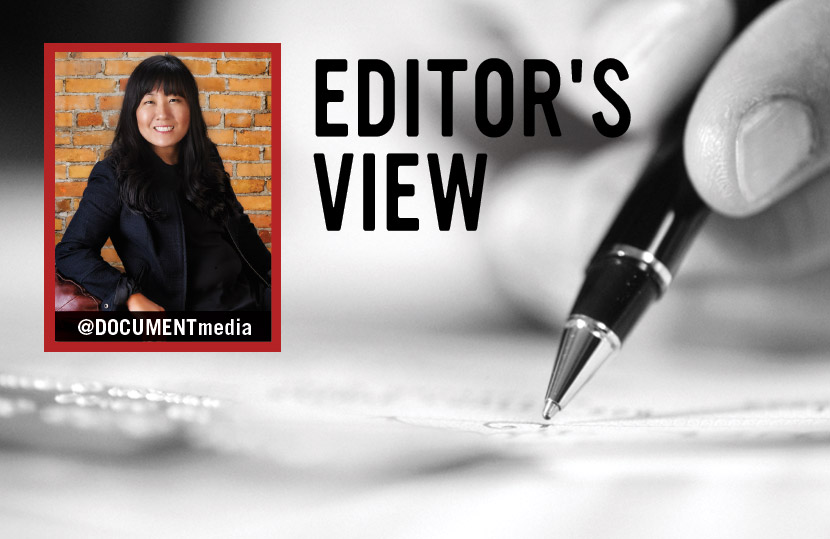 Nothing will shake an industry to its core like a whole software category getting replaced in favor of a new market segment. It's no wonder that the enterprise content management (ECM) marketplace is going through an existential crisis. Sadly, this isn't the first time a market segment has disappeared right before our eyes, and it certainly won't be the last. So, are we really done with ECM?
If you look at our recent Fall 2018 issue dedicated to ECM, I think you can see our position on this particular debate. In 2017 alone,
the ECM market was reportedly valued at $6.3 billion
and continues to grow at a CAGR of 8.7% a year.
The problem with terms and market labels is that people need to agree on their definitions or at least acknowledge they're talking about the same thing. In their highly controversial post about the death of ECM as a market segment and the emergence of content services in its place, Gartner posited that "
the content services approach overrules the notion of consolidation for its own sake
. It's strategic, rather than technology-oriented, and provides an evolved way of thinking about how to solve content-related problems."
Does that mean ECM wasn't strategic to begin with? In a follow-up post, Gartner reasserted that "ECM always meant strategy, methods, and tools."
There is no doubt that the way we think about content within organizations and within our critical business processes are changing. As various lines of business increasingly intersect at crucial stages of the content life cycle—from content creation, generation, and consumption—particular delineations across the business are getting very blurry. Just think about the term content: Forrester defines this term to include documents, records, messages, images, and related metadata.
None of these things will disappear from the enterprise anytime soon
.
However, as Gartner stated in their blog post,
we will need actual solutions for our business problems now
—not six months from now. It's clear that ECM practitioners of today want tools that work for them and in their desired flows of work, not the other way around.
Today's challenge is the ability to pull this data (in context and with intelligent decisioning) from various systems of record for every step in the customer journey, according to Principal Analyst David Mario Smith. As the prevalence of digital workplace technologies only increases, this challenge will certainly proliferate.
Content isn't going anywhere, but it's up to you how you will manage and use it—as well as the tools we build to achieve our business goals. As industry analyst Alan Pelz-Sharpe says in the cover story of our Fall issue,
"Embrace the change, and thrive."
It's this very call to action that inspired us to partner with leading ECM firm
Doculabs
to collect some of the brightest ECM minds around to lead this charge. Six years on, our information management conference at
DSF '19
is still focused on building real-world solutions for today—not tomorrow. It's ironic that the demand for change in ECM is only becoming greater than when we first launched this education program in 2014.
"The program we've built at DOCUMENT Strategy Forum (DSF) still stands out in the industry because it's led by practitioners who are solving content management challenges every single day and appreciate the value of sharing their experiences in order to move the entire DSF community forward together," says Doculabs CEO James K. Watson, Jr.
Indeed, the future can be realized sooner than you think
. I hope you enjoy our
issue on ECM
!
Allison Lloyd serves as the Editor of DOCUMENT Strategy Media. She delivers thought leadership on strategic and plan-based solutions for managing the entire document, communication, and information process. Follow her on Twitter @AllisonYLloyd.