UPCOMING EVENTS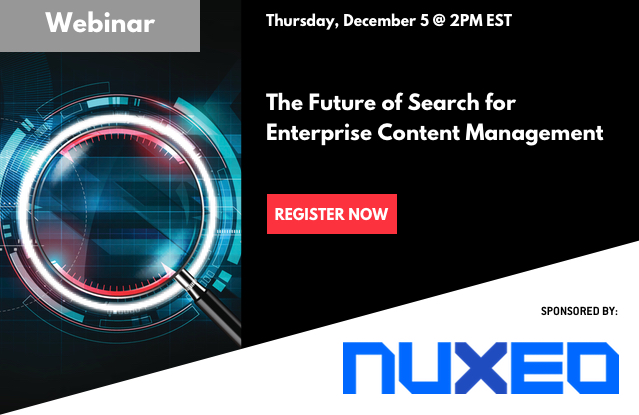 THE FUTURE OF SEARCH FOR ENTERPRISE CONTENT MANAGEMENT
Thursday, December 5, 2019
Every enterprise content management (ECM) system has some form of search. Yet, almost 75% of users recreate content—even when they know it already exists. Why is it after so many years of ECM we still struggle to find what we're looking for?

In this webinar, we'll share some key answers to this question and some tips you can use to make finding content as easy as searching.

You'll learn how to:
--Ensure your content management system aligns to your business data model and makes sense to your people
--Build relationships between content and data, including contracts, statements, customer data, and more
--Manage compound business objects and track where content has been used or published

Register Today!
ARCHIVED BROADCASTS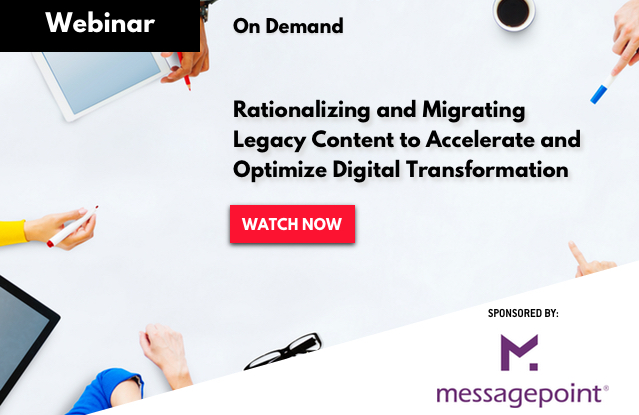 RATIONALIZING AND MIGRATING LEGACY CONTENT TO ACCELERATE AND OPTIMIZE DIGITAL TRANSFORMATION
Watch On Demand
There's gold in them thar legacy communications! Too often, organizations ignore the valuable content they have in their legacy communications systems because it's simply too challenging and time-consuming to make use of it. Instead, teams set up operational silos for print and digital communications and have to manually author, update, and manage the same content across multiple systems—increasing the risk of errors, non-compliance, and inconsistent customer experiences. But all that can change when you apply AI to the problem.

Join Patrick Kehoe, EVP of Product Management at Messagepoint, as he outlines how organizations have successfully migrated legacy communications into a modern, omnichannel environment using AI-powered Content Intelligence to create cohesive omnichannel customer experiences. Patrick will outline how to:

--Migrate, optimize, and consolidate content from legacy systems into modern environments
--Share content intelligently across channels and communications to eliminate redundant work and errors
--Set up guiderails that ensure your content remains optimized over time
--Reduce the risk of regulatory compliance and brand violations and ensure consistency across channels

Watch Now!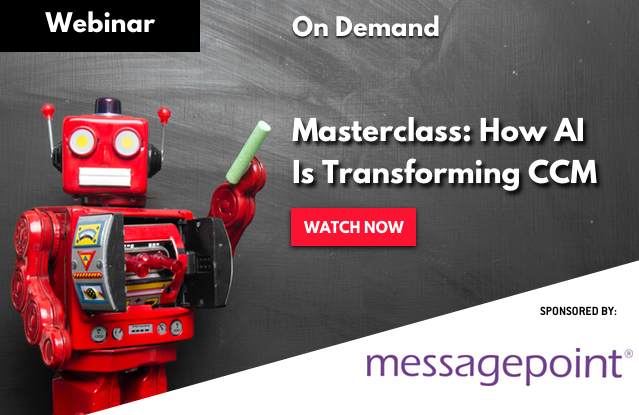 MASTERCLASS: HOW AI IS TRANSFORMING CCM
Watch On Demand
Artificial intelligence (AI) capabilities are being introduced into almost every aspect of our lives, and the realm of customer communications is no exception. In fact, AI capabilities embedded into CCM platforms can play an essential role in enabling organizations to dramatically improve operational efficiency, agility, and customer engagement and loyalty. These capabilities, commonly referred to as Content Intelligence, are re-shaping the CCM market.

Join Kaspar Roos, CEO and Founder of Aspire, and Patrick Kehoe, EVP of Product Management at Messagepoint, to explore practical ways in which Content Intelligence can improve both the management and the quality of the content that is the foundation of customer communications. This webinar will outline which AI capabilities have the biggest impact on customer communications today, practical applications of these that are easy to adopt, and trends to look for in the future.

In this webinar, you will learn:
--Upcoming AI technology trends and the impact they have on customer communications and customer experience
--How AI-based content migration removes barriers to modernization and digital transformation by freeing content from legacy systems and formats
--How Content Intelligence drives consistency across messaging, sentiment, reading levels, and brand to increase trust and loyalty across all channels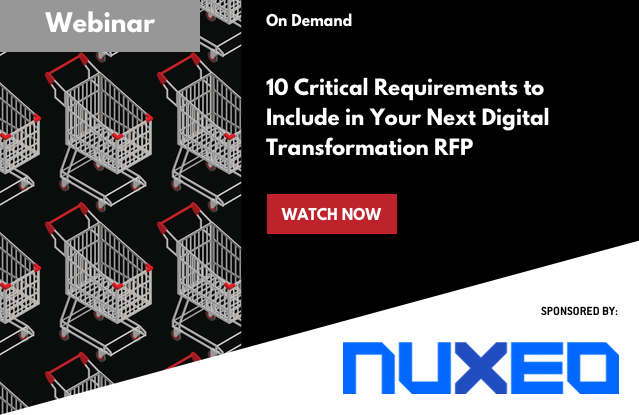 10 CRITICAL REQUIREMENTS TO INCLUDE IN YOUR NEXT DIGITAL TRANSFORMATION RFP
Watch On Demand
The days of modernizing legacy information systems by replacing like for like are behind us. Today's technology has more to offer than ever before, and business value is no longer derived from doing what you have always done. In this webinar, learn how to create your next Request for Proposal (RFP) to reflect your current modernization strategy and to give you the best possible outcome.

We'll explore how to create an RFP that gets the best from:
--Platform vs Product
--AI Innovations
--Continuous Innovation
--And Much More

Join David Jones, VP of Product Evangelism & Derick Deleo, VP of Solution Consulting at Nuxeo for this hands-on look at how to build the right kind of RFP for the future.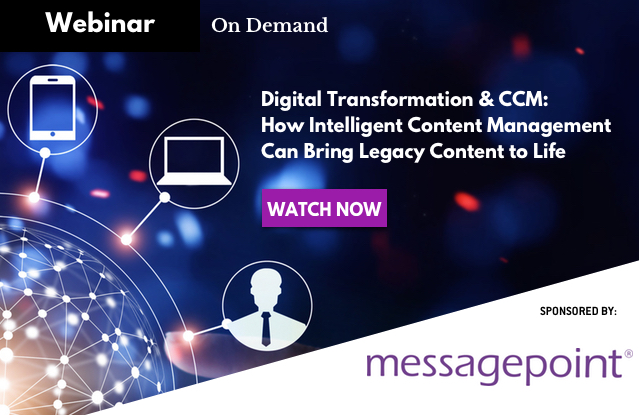 DIGITAL TRANSFORMATION & CCM: HOW INTELLIGENT CONTENT MANAGEMENT CAN BRING LEGACY CONTENT TO LIFE
Watch On Demand
Content plays a crucial role in eliciting an emotional response from customers, which is essential to driving positive customer experiences. Yet, too often, as organizations pursue digital transformation strategies, they focus solely on the technical considerations surrounding the delivery channel and fail to invest appropriately in the transformation of their content.

In this webinar, Patrick will outline how to drive positive customer experiences by intelligently managing content for omni-channel communications. You'll learn:
--How to rethink your content for the optimal omni-channel experience
--Key considerations when redesigning communications
--How to clean up the content sitting in your legacy CCM system
--How to drive brand and messaging consistency
--How to efficiently manage and reuse content across various delivery channels and communications

Join Patrick Kehoe, EVP of Product Management at Messagepoint, as he outlines the critical steps that organizations need to take in order to optimize content for hybrid communication models that span both print and new digital channels.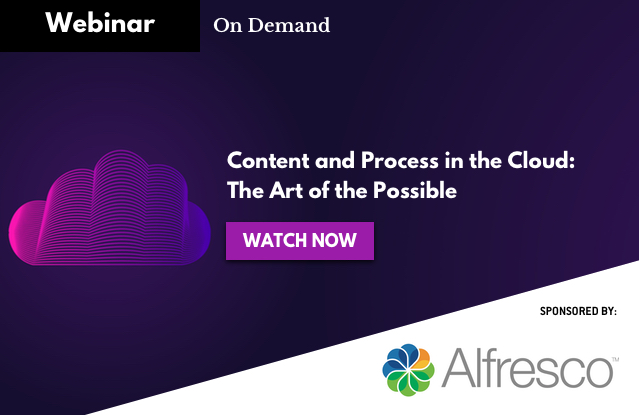 CONTENT AND PROCESS IN THE CLOUD: THE ART OF THE POSSIBLE
Watch On Demand
Since the dawn of the distributed computing era, enterprises have been contending with the increasing growth of unstructured content and disparate processes.

This webinar is for enterprise architects, solution architects, and IT managers who are considering a move to the cloud.

Today's computing landscape consists of enterprises that have rationalized and standardized their IT functions and are now looking for new ways to manage costs, increase user adoption, and modernize their platform. Organizations are moving to more agile and flexible solutions, while looking to the cloud as the next-generation platform.

Join Paul Hampton, Senior Director of Product Marketing, Alfresco, to hear how other organizations are successfully moving to the cloud and what the next five years has in store for this industry.

Transformational moments are now possible in record time. Join this webinar and watch how.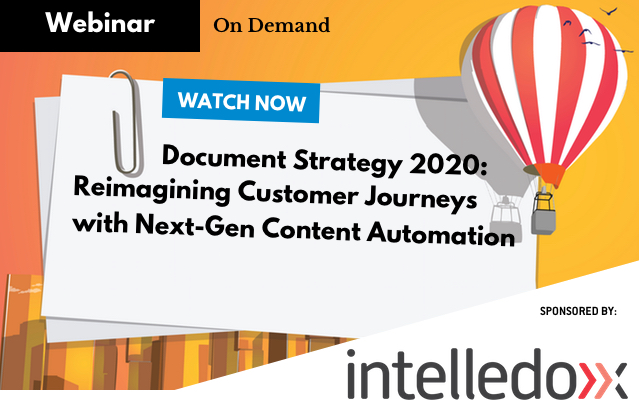 DOCUMENT STRATEGY 2020: REIMAGINING CUSTOMER JOURNEYS WITH NEXT-GEN CONTENT AUTOMATION
Watch On Demand
Join Jim Lundy, Founder and CEO, Aragon Research & Neal Keene, EVP of Strategy and Partner Alliances, Intelledox, as they discuss trends and provide real-world advice on how companies are transforming the content-centric processes involved in customer acquisition, onboarding, and service.

By 2020, 65% of enterprises will have re-architected their core processes to bring even more automation to document creation and routing, according to Aragon. We'll discuss why—and how—you need to update your strategy to keep pace.

We'll take a deeper dive into real-life success stories showing how companies are digitally transforming legacy forms and CCM-related processes, speeding up and simplifying the customer's roundtrip journey.

Learn how to:
--Update your content and workflow roadmap for 2020
--Measure the value of forms and content transformation projects
--Identify where to start and find quick wins

If you're looking for ways to innovate, streamline interactions, and improve customer engagement, this webinar is a don't miss.