UPCOMING EVENTS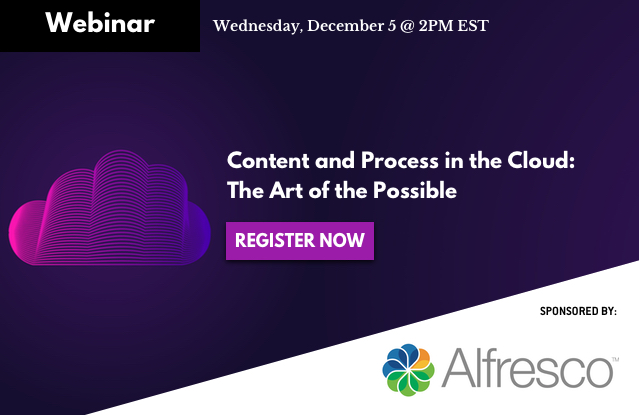 CONTENT AND PROCESS IN THE CLOUD: THE ART OF THE POSSIBLE
Wednesday, December 5, 2018 | Register Now
Since the dawn of the distributed computing era, enterprises have been contending with the increasing growth of unstructured content and disparate processes.

This webinar is for enterprise architects, solution architects, and IT managers who are considering a move to the cloud.

Today's computing landscape consists of enterprises that have rationalized and standardized their IT functions and are now looking for new ways to manage costs, increase user adoption, and modernize their platform. Organizations are moving to more agile and flexible solutions, while looking to the cloud as the next-generation platform.

Join Paul Hampton, Senior Director of Product Marketing, Alfresco, to hear how other organizations are successfully moving to the cloud and what the next five years has in store for this industry.

Transformational moments are now possible in record time. Join this webinar and watch how.
ARCHIVED BROADCASTS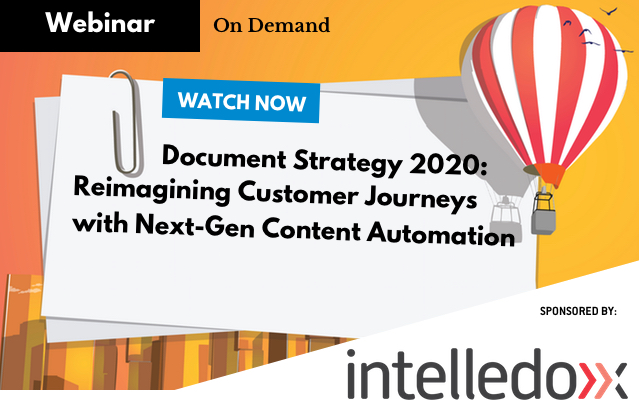 DOCUMENT STRATEGY 2020: REIMAGINING CUSTOMER JOURNEYS WITH NEXT-GEN CONTENT AUTOMATION
Watch On Demand
Join Jim Lundy, Founder and CEO, Aragon Research & Neal Keene, EVP of Strategy and Partner Alliances, Intelledox, as they discuss trends and provide real-world advice on how companies are transforming the content-centric processes involved in customer acquisition, onboarding, and service.

By 2020, 65% of enterprises will have re-architected their core processes to bring even more automation to document creation and routing, according to Aragon. We'll discuss why—and how—you need to update your strategy to keep pace.

We'll take a deeper dive into real-life success stories showing how companies are digitally transforming legacy forms and CCM-related processes, speeding up and simplifying the customer's roundtrip journey.

Learn how to:
--Update your content and workflow roadmap for 2020
--Measure the value of forms and content transformation projects
--Identify where to start and find quick wins

If you're looking for ways to innovate, streamline interactions, and improve customer engagement, this webinar is a don't miss.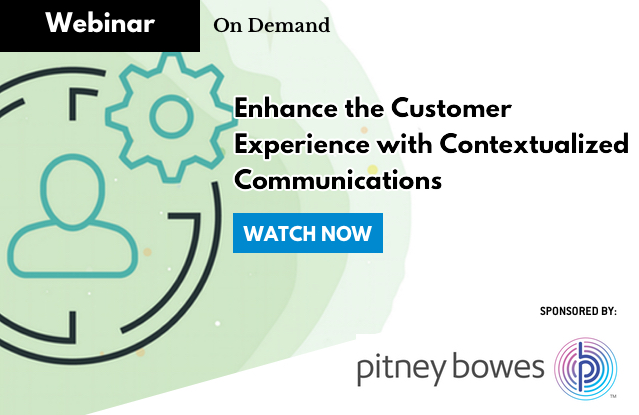 ENHANCE THE CUSTOMER EXPERIENCE WITH CONTEXTUALIZED COMMUNICATIONS
Watch On Demand
According to Gartner, by the end of 2018, three in every four customer communications will be contextualized and consumed in digital channels. Contextually relevant customer communications help to improve customer acquisition and retention. Yet, many organizations take a fragmented and, therefore, unproductive approach to customer communications and interactions.

Join us for this webinar on Thursday, March 29 at 2PM ET, where we will share insights on the innovations that digital leaders are deploying to ensure meaningful and relevant interactions with their customers.

During this webinar, we will also discuss how to convert digital touchpoints into active engagement opportunities, unlock new value by augmenting paper-based documents with digital and real-time communications, and include adjacent technologies, such as personalized interactive video and chatbots.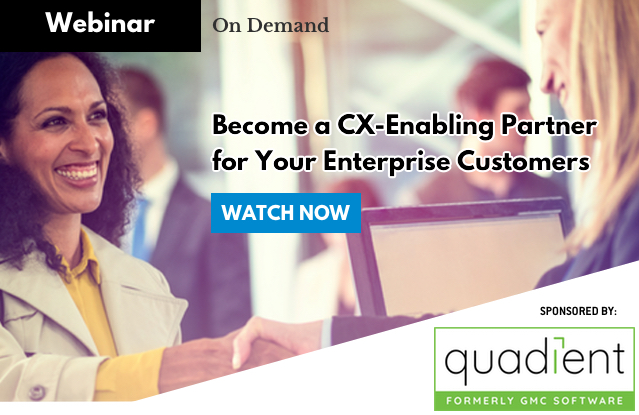 BECOME A CX-ENABLING PARTNER FOR YOUR ENTERPRISE CUSTOMERS
Watch On Demand
Many enterprise customers of service providers are working to improve how they engage with their consumers. These customer experience (CX) initiatives require new capabilities around rapid data provisioning and digital communication, but enterprises have challenges delivering the right experiences due to incomplete data, outdated technology, and functional silos.

As such, enterprises are looking for outsourcing partnerships with service providers to help enable new CX programs quickly. By providing services that allow your customers to avoid costly and time-consuming investments to modernize their infrastructure, you become part of the CX discussion.

During this webcast, Joe Zurawski, Vice President of Solution Strategy at Quadient, will discuss how service providers can leverage multi-channel digital output capabilities, along with rapid data processing, to expand their business by enabling CX communications.