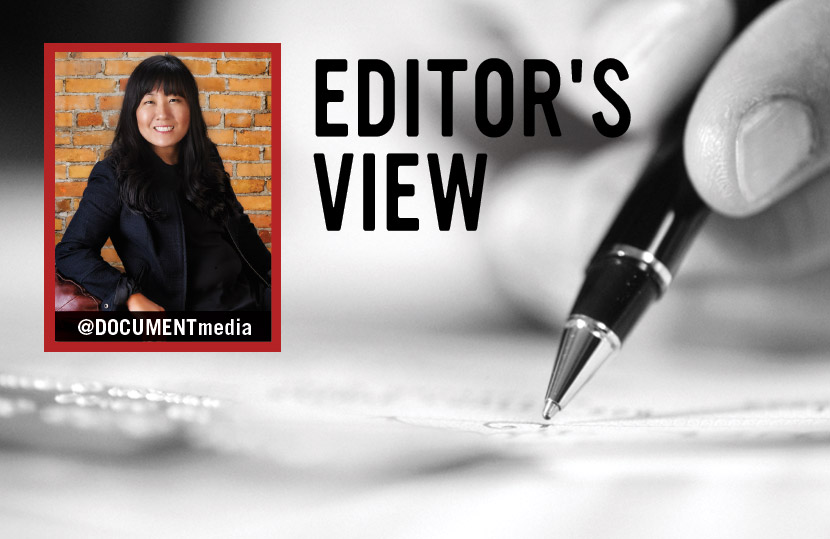 For the past several years, we dedicate our publication's Fall issue to the topic of
information management
. This is because we understand that information is a critical asset in delivering intelligent, personalized customer experiences. As channels of engagement proliferate (particularly digital ones), organizations are more focused than ever on filling the gaps that exist between digital experiences and those in the physical world, and the common denominator across all these interactions is
content
. As a result, IDC Vice President Maureen Fleming reports that "content is treated as a consistent and managed asset and integrated across all of the customer-oriented workflows." However, innovations in process automation and advanced analytics, along with an increased need for integrations, are redefining how we classify content, who owns it, and the ways in which we share it. Make no mistake:
Creating seamless digital experiences require a serious culture change—inside and outside of the organization
.
In this customer-centric age, traditional content siloes—whether you call it transactional, business, or customer-facing content—are not conducive to delivering the business outcomes we seek nor the experiences that customers want. We see technologies moving in the right direction to meet the evolving needs born from the digital age. IDC Research Vice President
Holly Muscolino
notes that such innovations include "cloud enablement and a shift toward easier-to-use interfaces for business users." Furthermore, Ms. Muscolino reports that "tasks will be increasingly offloaded to cognitive solutions, including artificial intelligence (AI)." These kinds of tools allow organizations to digitize and automate processes in ways that were unimaginable before, while gleaning important insights around their content. The race toward digital agility is also leading companies to invest in technologies that eliminate existing friction between back-office functions and front-office interactions, resulting in richer and more seamless customer experiences. Yes, we are witnessing a reckoning in how we manage our information, but
as long as we still view content in terms of our traditional siloes—internal business use versus external, customer-facing touchpoints—then we will be unprepared for the digital future
.
We have always recognized the power that content holds. There is a symbiotic relationship between how content is managed and secured and how we communicate and share it with our customers, employees, and partners. In fact,
David Mario Smith
at InFlow Analysis underlines this point by saying, "The seamless flow of business processes requires communication, coordination, and collaboration with both internal and external constituents." His point is that we can't deliver the experiences our customers want if we don't model those same expectations with our own employees as well. Being people-centric means exactly that. The desire to control and access information when we want it, wherever we want it, isn't isolated to our customers—it's everyone's desire. When we think about managing and leveraging information as a corporate asset, this is the mindset we must take.
It is this mandate that propelled us to launch our Information Management Program at our annual conference and expo, DSF '18, an educational program produced in partnership with leading enterprise content management (ECM) strategy firm
Doculabs
. It is also the reason why we dedicate a whole issue to this topic. Digital experiences, inside the workplace and out, demand less complexity and more ease of use, challenging us to meet security and compliance woes head-on. This is no longer a legal, security, or compliance problem. It's a collision course long in the making.
Information and customer experience professionals need to move beyond thinking about content in a one-dimensional manner to bear the fruits of digital transformation
.
I hope you enjoy our
Fall issue
!
Allison Lloyd serves as the Editor of DOCUMENT Strategy Media. She delivers thought leadership on strategic and plan-based solutions for managing the entire document, communication, and information process. Follow her on Twitter @AllisonYLloyd.