Image by Omni Matryx from Pixabay
Let's reflect upon what customer communications teams have been doing in response to COVID-19. Some may be doing more or less than others. Some may be investing or cutting. Some may have proceeded in the best way they could with the information they had in the moment, but would have responded differently in hindsight. Looking back at actions taken in the early stages of this crisis prepares us for the next time we face a disruptive event. Let's consider the type of communications we sent, the channels we used and the consistency of the communications we sent during this crisis.
Sending new types of messages
The quick spread of COVID-19 elicited reactions at different speeds and scopes in different places at different times. US-based companies had to send messages that were current and compliant, while also being relevant to local situations. This was very difficult, because responses varied at state and local levels depending on how each was impacted.
Businesses had to quickly (sometimes in under 24 hours) write, design and approve new communications for their customers. These communications contained information about payment delay policies, temporary fee relief, health and safety information, rescheduling of appointments, cancellation or rescheduling of events, changes in coverage, operating hours and pickup policies, refunds issued, extended annual subscriptions and other important updates. CX-focused businesses started to send non-transactional communications to keep a strong connection with customers, even when transactions were slowed or cancelled.
Regulations also changed quickly; in fact, internal policies and guidelines often changed within a single design cycle. While teams were crafting well-meaning messages and creating designs quickly, those messages and designs became outdated or inappropriate by the time they reached clients.
Did your team make any adjustments in your approach that made it easier to rapidly design and deploy these new messages? If your organization prioritized speed, then your team needed to have a complementary channel strategy. What did your team learn about adherence to pre-crisis design and approval workflows processes? Was your organization ready to make those adjustments to speed up your reaction time?
A shifting channel mix
Within the first weeks that people were reported to have contracted COVID-19 in a geographical area, the speed of communication became critical. While we were adapting to changes and improving our reaction times, millions of employees and customers were required to transition to work from home. As employees made this move, some channel options disappeared, and others emerged. As home offices became a primary place of business, physical-only transactions started to make a shift towards digitization, if not skipping directly to digitalization. The internal systems that helped create and deliver traditional communications quickly began to show their age, turning into barriers that made simple tasks difficult.
Some work shifted from print to email to gain speed. Some communications were quickly adapted to add new channels to ensure the recipient was reachable if the primary contact method was no longer dependable. When email was not being opened at the same responsive rate, because so many emails were being sent to customers' inboxes, did your team add SMS or push notifications to your apps? Since these channels showed the highest response rates, it made sense that they quickly leapt to the front of the line.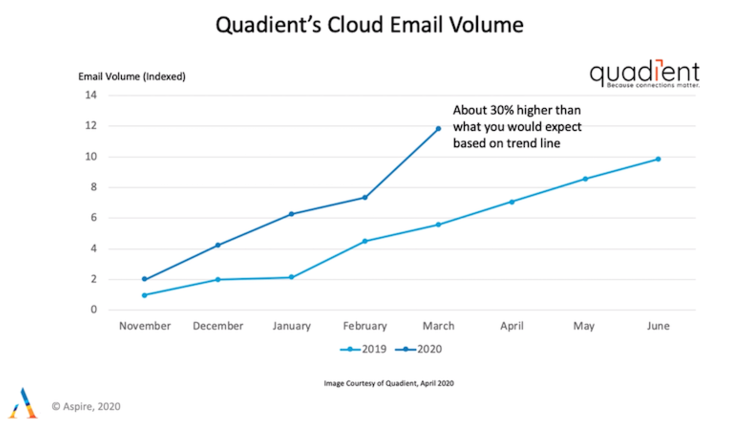 As analyst Kaspar Roos of Aspire Customer Communications Services mentioned in his video summary of CCM during COVID-19, Quadient's cloud-based delivery of email, SMS and mobile push notifications experienced a 30% spike in March over the 2020 trend line. This was primarily due to new COVID-19 related communications that were seeking a faster and cheaper digital channel. Most of these were new projects for new messages, but one-third of these were adding SMS, email or notifications to already deployed projects. As the channel needs of customers and employees changed, what new channels are today part of your company's channel mix?
Message consistency
Many organizations did an amazing job of reacting quickly and executing across a collection of multiple communication technologies, but a challenge they encountered was brand damage created from inconsistencies. In the mind of each customer, every message you send is compared against every other message you have sent, making it important to have a consistent design and tone.
For example, airlines have been besieged with lawsuits for not honoring refund language in their ticket contracts, as evidenced
in this article from the Washington Post
. Some enterprises were not following stated policies, which negatively impacted the customer while violating their own terms of service. In thinking about it, did any of your team's quick-to-market messages accidentally conflict with other messages that reached your customers at the same time? Did any conflicts show up in the call center, review sites or other feedback collection mechanisms in your business as a result of some of your rapid and reactive communications?
An opportunity to learn
As we prepare to recover from this pandemic crisis — hopefully soon — a good exercise is to review our reactions to it. Did your organization act too quickly or not quickly enough? Did your business overcommunicate or undercommunicate?
A key takeaway is that organizations can act a lot quicker, be more flexible and think up and design communications quicker than was previously thought; but, when you are fast and flexible, it is easy to lose consistency. As you consider the next disruptive event that requires decisive action, COVID-19 has given us a great idea of how to balance our reactions. It's OK to make mistakes if you're willing to learn from them.